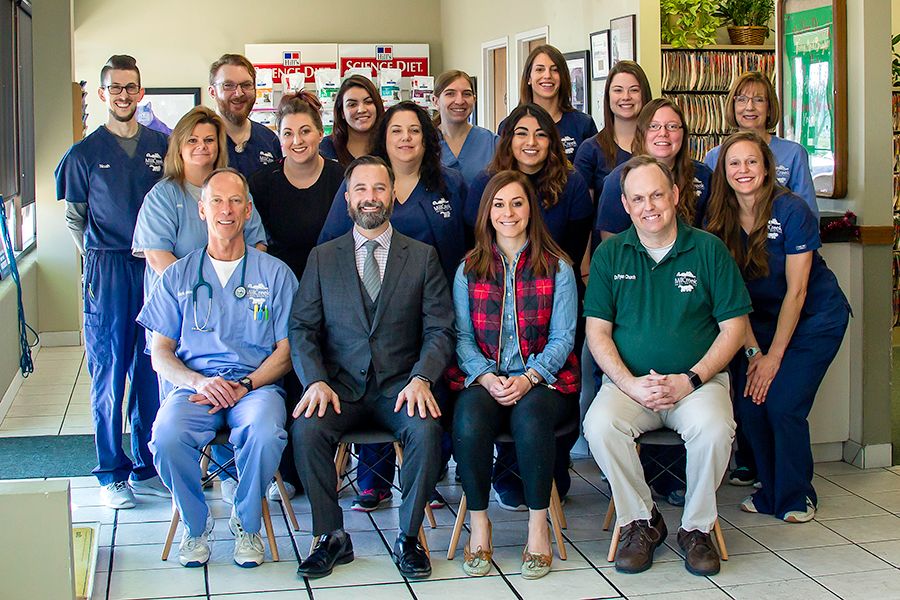 About Mill Creek Animal Hospital
Since 1990, Mill Creek Animal Hospital in Shawnee, Kansas (just outside Kansas City), has strived to live up to our stated mission of being dedicated to an ethical and professional approach to the provision of compassionate, quality veterinary care.
We are a full-service Kansas City veterinary hospital staffed by a team of caring medical professionals housed in a state-of-the-art facility that is designed to be a warm and welcoming home for the care of your pet.
Additionally, all of our doctors and staff are pet owners who truly understand that your pet is an integral part of your family and that your relationship with your pet is unique. We pledge to nurture and support that bond by providing quality preventative wellness care. We promise to educate and counsel you on the proper care of your pet, and to do our best to keep your companion happy and healthy for a long time.
In all, we are very proud of the reputation we have earned as the leading Shawnee area animal hospital for the quality of our veterinary care as well as for the honesty and integrity of our practice. Please take a look around our website and feel free to give us a call at (913) 268-0900 if you have any questions or would like to schedule an initial appointment.
American Animal Hospital Association Accredited
Mill Creek Animal Hospital-your vet just outside Kansas City-is proud to be an American Animal Hospital Association Accredited Veterinary Hospital. This distinction is achieved by fewer than 15 percent of the animal hospitals throughout the United States.
What does this mean for you and your pet? To achieve AAHA certification, our Kansas City area veterinary animla hospital in Shawnee has passed rigorous, comprehensive inspections of our facility, management and medical equipment. We strive to meet and, when possible, exceed AAHA requirements. This means your pet receives the highest-quality veterinary care possible when he or she visits Mill Creek Animal Hospital.